Learn to swim with Lorna is a swimming school for children aged 3 upwards. Lorna is a very experienced swim teacher with 25 years experience.
Does your child need swimming lessons?
Back in 1992, there was a serious need for Learn to Swim Instructors.  Learn to Swim with Lorna answered a need then and is still producing both accomplished competitive swimmers along with competent school swimmers.   The school is small, private and designed to produce confident swimmers whose ability will be recognised by schools and clubs alike. 
Lorna Riley has 20 years experience, has a FINA Level 3 qualification the highest level offered by the World Swimming Administrator and a UK qualification in teaching children to swim.  Stroke development is Lorna's speciality and it is the fundamental skill to assure performance when it matters.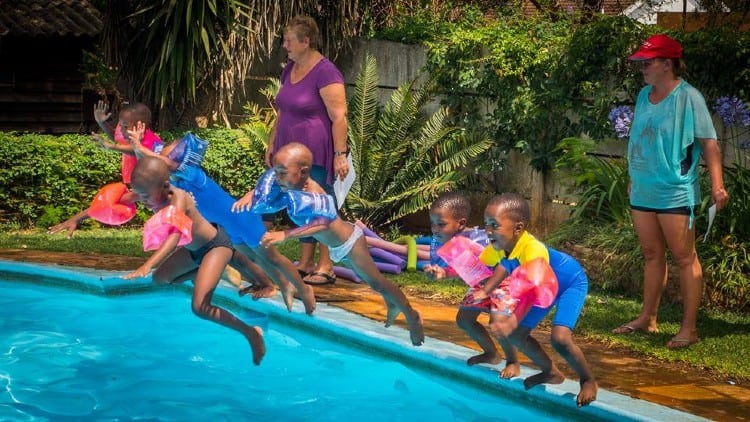 Lorna's philosophy is that swimming is a life skill and one that all children in Zimbabwe should have.  Our country is full of rivers and canals, dams and reservoirs along with homes blessed with swimming pools, plenty of opportunities for children to drown but it's such an easy skill to acquire and one that all urban children can learn either at school or privately.
Swimmers are encouraged to continue swimming once they have acquired the necessary skills and are invited to attend developments galas offered by the Matabeleland Amateur Swimming Board and join competitive swimming clubs. 
Not all swimmers are interested in competitive swimming but clubs offer a good social outlook, improved health and fitness for children with asthma etc and a way to enjoy a sport which is fun and can lead to other pursuits like triathlon and water polo.